Precise Steering and Improved Handling
There's something special about big cars that handle well, but when they carry all that weight, premature wear on parts is inevetible. That's true for cars like the BMW F10 5-Series (including the M5), as well as the F06/F13 6-Series, F01/F02 7-Series, and even the comparatively lightweight i8 which all share some suspension components. And let's not forget the biggest of them all in that family: The RR4 Rolls-Royce Ghost.
These all share the same factory front upper control arm bushings which aren't ultra-responsive from the beginning and wear out quickly. That leads to to annoying noises, vague steering feel, and poor tire wear. Our Powerflex Front Upper Control Arm Bushings give these cars a new sense of driving joy along with newfound longevity.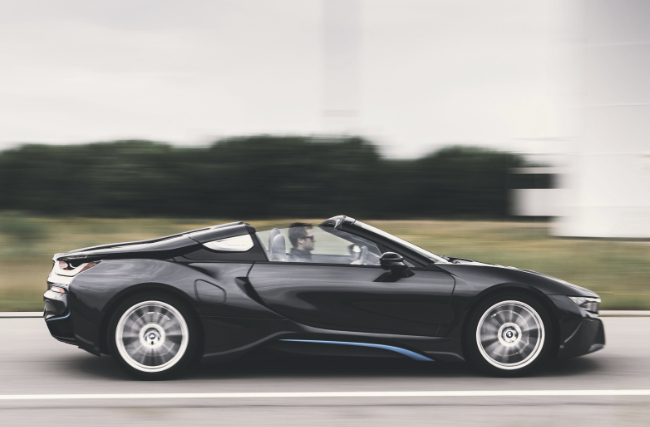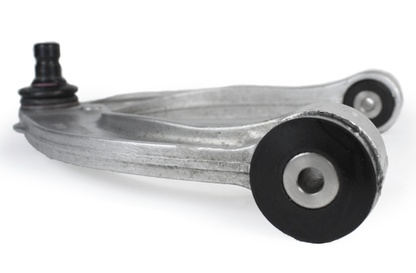 Improved Driving Dynamics
Powerflex non-adjustable Front Upper Control Arm Bushings are direct-fit replacements that deliver sharper steering, more confident braking stability, and improved tire wear.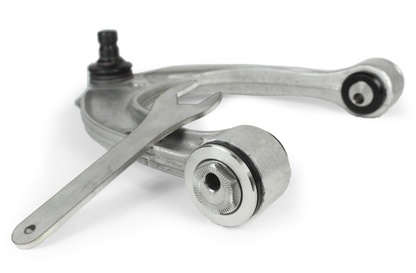 Adjustable Camber Settings
Also available in an offset version for camber adjustability up to +/-0.25 degrees for fine-tuning handling characteristics or camber correction due to lowered suspension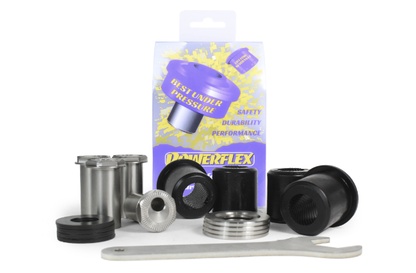 Performance and Longevity
The offset and non-offset versions  are both made with our Black Series bushing material (95A durometer) and come with our renowned Lifetime Warranty for peace of mind.
A Difference You Can Feel
You can clearly see the improved precision of Powerflex Front Upper Control Arm Bushings for your BMW 5-Series, 6-Series, 7-Series, i8, and Rolls-Royce Ghost in the radial load comparison chart below. Noticeably improved feel and precision, a lifetime warranty, and no drawbacks.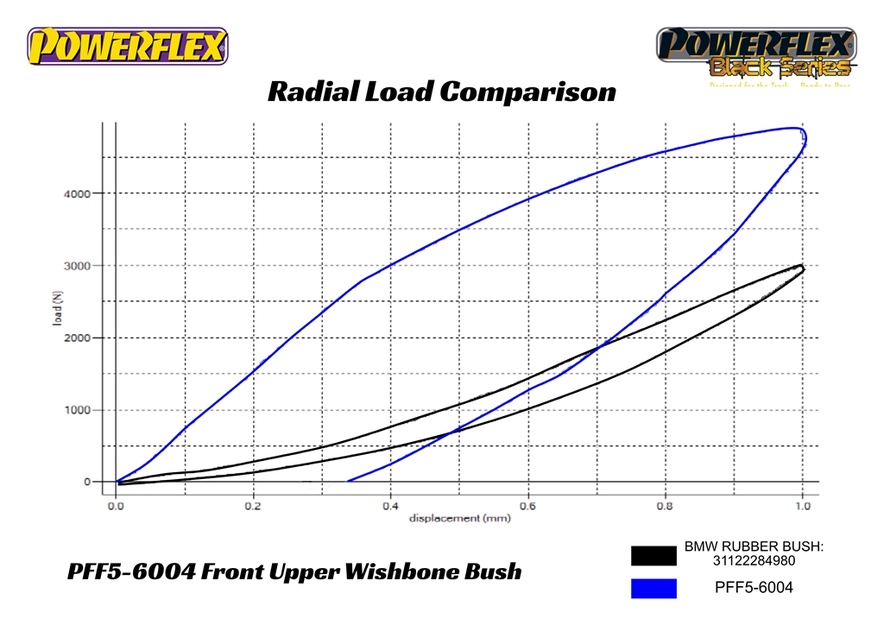 Why Powerflex?
Because Quality, Performance, and Longevity Matter
Powerflex bushings are engineered for each individual application. Our premium bushings improve performance, increase tire life, and enhance safety. Plus, every Powerflex part comes with a Lifetime Warranty, so you never have to worry about replacement parts again.
Our proprietary blended urethanes last longer than run-of-the-mill polyurethane you might find elsewhere. Powerflex polyurethane is formulated specifically for automotive applications that have unique environmental factors like vibration, oil, and varying load-types, yet our Street options display minimal NVH if any at all, even in instances where our engineers have opted for Black Series bushings as the ideal option for street use.