You Asked, We Listened!
Our Powerflex Bushing Assembly Grease has always been so impressively popular with shops and shade tree mechanics that we decided it was time to listen to all the requests for bigger containers of it. Since the pouches we supply with orders for bushings are just enough for those parts, but our grease is so great that it's handy to have around for other jobs, it's time to offer larger containers, so that's exactly what we're doing.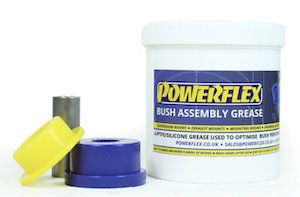 For Professionals and DIY Mechanics
When you have a job that requires PTFE/silicone grease, whether it's at home or in a professional shop, our 500g tub of Powerflex Assembly Grease is exactly what the garage doctor ordered.
Our extremely effective and specially formulated PTFE/silicone assembly grease is the only product recommended for Powerflex bushings, but it's also ideal for many other jobs around the garage or workshop. Now you can keep a tub of it ready to go whenever you need it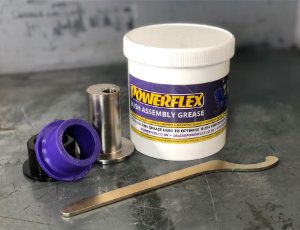 Why Powerflex?
Because You Demand the Best
Powerflex bushings are engineered for each individual application. Our premium suspension parts improve performance, increase tire life, and enhance safety. Plus, every Powerflex part comes with a Lifetime Warranty, so you never have to worry about replacement parts again, and the same quest for perfection goes into everything else we produce, including our Powerflex Assembly Grease.
Our proprietary blended urethanes last longer than run-of-the-mill polyurethane you might find elsewhere. Powerflex polyurethane is formulated specifically for automotive applications that have unique environmental factors such as vibration, oil, and varying load-types, yet our Street options display minimal NVH if any at all, even when our engineers have specified Black Series bushings as the ideal option for street use.