Upper and Lower Engine Mount Inserts for A, CLA, and GLA Class Mercedes-Benz
For car fanatics, there's never been a better time to be alive. Automotive performance is more impressive than it's ever been, and new-car options that deliver that performance are plentiful.
Even car makers who used to produce cars that were intended only to get people from point A to point B in comfort now offer genuine fun-to-drive vehicles. That's especially true for Mercedes-Benz. Mercedez-Benz vehicles used to be the pinnacle of luxury cars, and that's still true. But they now compete with more driver-oriented cars from other manufacturers, and that's particularly the case with the GLA-, CLA-, and A-class vehicles. These are genuinely enjoyable cars that still surround you in the fabled luxury of Mercedes-Benz. While they've come a long way, they still have compromises that lean more toward comfort and isolation. One place that's most noticeable is in their engine mounts.
As you can see from the images to the right, the factory Mercedes-Benz upper engine mounts have large voids in the bushing design. This reduces NVH (noise/vibration/harshness), which is required for that level of refinement, but it also means additional movement when under load plus increased wear due to that movement.
Our Powerflex Upper Engine Mount Inserts are easy to install and fill those voids to prevent excessive movement. That means significantly increased control and improved performance without any added NVH with our Street version, made with our red 65 Shore A polyurethane.
Why do car manufacturers use this open-bushing design for engine mounts? The biggest reasons are isolation and cost savings. Using rubber is less expensive than polyurethane and much softer. Add in the voids, and you're now almost completely isolated from the engine. 
Luckily, their mount design makes it easy for us to offer performance improvement with an extremely easy-to-install solution. And since our engineers use correctly formulated polyurethane, the NVH suppression is as good if not better than a similar rubber design. Win-win!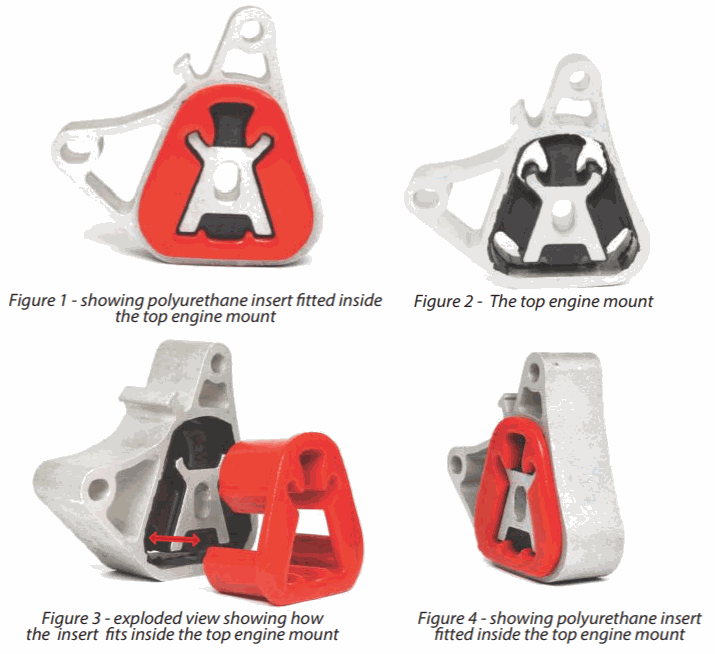 Echoing the design of the Mercedes-Benz upper engine mounts above, you can clearly see the factory engine mounts have large voids in the bushing design below. While great for NVH, the inherent movement from this design increases wear and reduces the performance compared to a more solid design.
Our Powerflex Lower Engine Mount Inserts for Mercedes-Benz A-, CLA-, and GLA-class vehicles reduce that movement, leading to improved performance, and the red 65 Shore A polyurethane in the Street inserts as shown means no added NVH. Both the Upper and Lower Engine Mount Inserts increase the longevity of the factory bushings, enhance performance, and have no drawbacks.

Black Series Versions Available
So, you want to take your car on a race track or enjoy the twists and turns of winding backroads (without exceeding the posted speed limits, of course), and you don't mind a slight increase in NVH? Both of these Mercedes-Benze Upper and Lower Engine Mount Inserts are also available in our Race version which is made from our stiffest Black Series bushing material. 
Why Powerflex
Powerflex bushings are engineered for each individual application. Our premium bushings improve performance, increase tire life, and enhance safety. Plus, every Powerflex part comes with a Lifetime Warranty, so you never have to worry about replacement parts again.