How To choose powerflex bushings and durometer
Powerflex Bushings Are Available In Multiple Durometers To Suit Your Needs
Our durometer ratings by color of bushing:

Red (65A) / Yellow (70A) / Purple (80A) / Black (95A)

Our team of engineers, through much research, determines the appropriate use of each durometer in each specific application to provide an excellent driving experience for any street or track setting.
Street/Performance - Road Series bushings improve your cars' road holding and chassis performance by controlling the amount of unwanted flex in the suspension. This means the suspension is doing what it is supposed to. It means your tires have greater contact with the road at all times, therefore, improving safety and performance.
Black Series - Manufactured using our stiffest compound to provide maximum control of chassis geometry. They are designed for the track, ready to race and are engineered to be the best. This compound can be up to 80% more resistant to load than standard rubber and 25% stiffer than our purple performance material.
Heritage
Collection -
Manufactured using the same premium polyurethane as our street series. These dark grey colored bushings will improve any collector's car, while retaining the same standard appearance of a rubber bushing.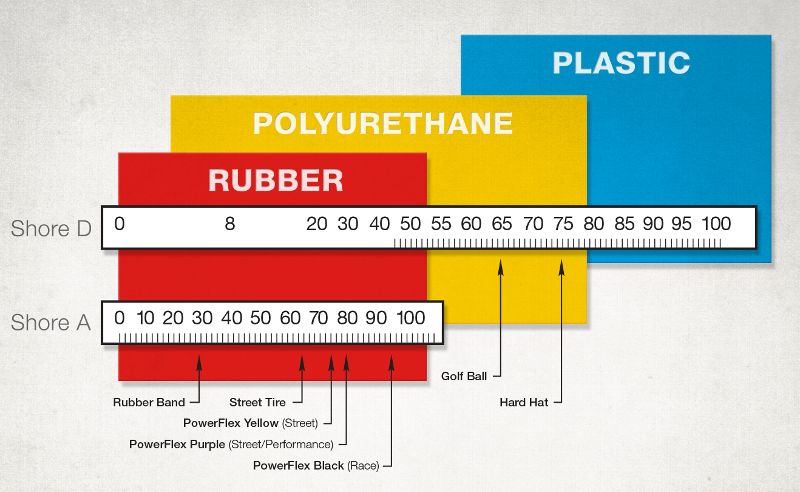 Powerflex polyurethane bushings are designed to decrease the amount of deflection in your car's suspension which improves handling, driver feedback, and tire wear. We use our own premium polyurethane formulation to provide minimal NVH (noise, vibration, harshness) and increased longevity over stock rubber bushings.
Powerflex is a truly engineered product, not just a copy of the stock part in a different material. Redesigned to address common factory failure parts, Powerflex bushings allow the articulation required to maintain control of movement for increased performance while far outlasting the stock parts they are replacing. Additionally, Powerflex Engineering Line products for some fitments include unique features like polyurethane monoballs and offset geometry to provide ultimate performance without the harshness of metallic race parts. Powerflex polyurethane engine/drivetrain mounts and reinforcements are available for some fitments to reduce movement for better throttle response and more power to the wheels.
Bushings are produced in one of three durometers – Yellow (70A, approximately 25% stiffer than stock), Purple (80A, approximately 30% stiffer than stock), and Black (95A, approximately 80% stiffer than stock). Unlike other brands using only one urethane grade for all applications, Powerflex design engineers choose the correct hardness to allow for the specific movement or rigidity required for each location while minimizing unwanted NVH.
Powerflex urethane hardness is standardized per fitment and location. This takes out the guess work, so when you choose Street, you know our design engineers have selected the optimal polyurethane hardness for your specific application. Select parts are also available in an optional stiffer urethane (Black Series) for track and autocross performance where NVH is less important.
Powerflex bushing offerings are very thorough, and they are sold per location to fit each customer's specific needs. An automobile's bushings and mounts wear at different rates making "complete-kit" bushing sets unnecessary for most buyers. Replacing only the weak links in your car's suspension is a great way to tighten handling without stressing the budget.
Powerflex PTFE-Silicone grease is supplied with every bushing set and is the only lubrication we recommend - standard "anti-seize" or white lithium grease traditionally used with urethane bushings are not as effective. Bushings will rarely need re-lubing due to the unique grooves and knurls cast into the material to hold the lubricant.