Audi A3 MK2 8P (2003-2012) Suspension Bushings
Powerflex's special polyurethane is an advanced material with unique properties. Upgrade your Audi ~ A3 MK2 8P ('03 -'12) with high performance bushings, bushings that won't cause vibration or noise and include a Lifetime Warranty!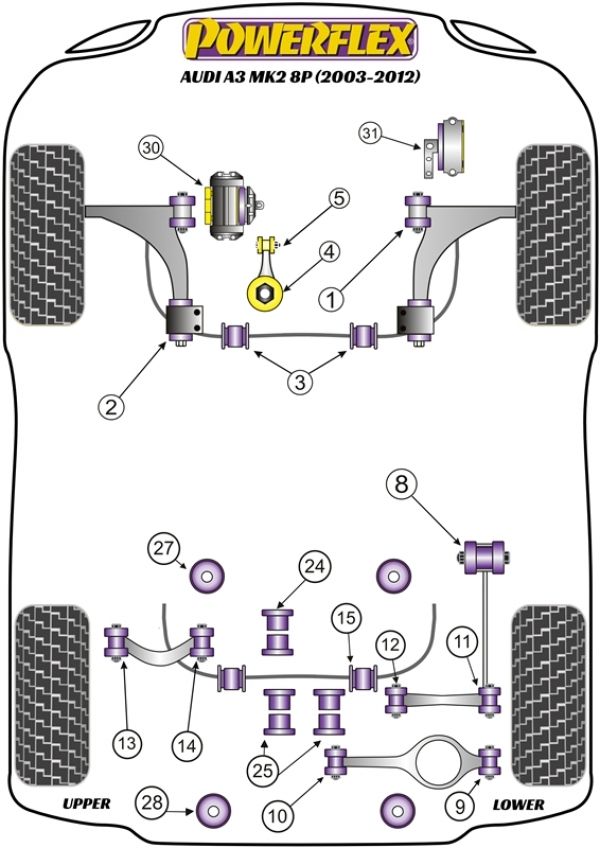 Notes:

Please confirm anti-roll bar diameter before ordering any anti-roll bar bushings
PFF85-504 fits vehicles up to the middle of 2008
PFF85-704 fits vehicles from the middle of 2008+
PFF85-504 and PFF85-704 are made in Yellow Shore A 70 and are suitable for fast road applications
PFF85-504R and PFF85-704R are made in Red Shore A 65 and are suitable for diesel engines where using the fast road material can cause too much NVH
PFF85-504P and PFF85-704P are made in Purple Shore A 80 and are suitable for higher powered engines, track and competition cars; NVH will be more noticeable as the material is stiffer, but allows less movement
PFR85-524, PFR85-525, PFR85-527 & PFR85-528 fit 4 wheel drive models only.