Audi Coupe (1981-1996) Suspension Bushings
Powerflex's special polyurethane is an advanced material with unique properties. Upgrade your Audi ~ Coupe (81 - 96) with high performance bushings, bushings that won't cause vibration or noise and include a Lifetime Warranty!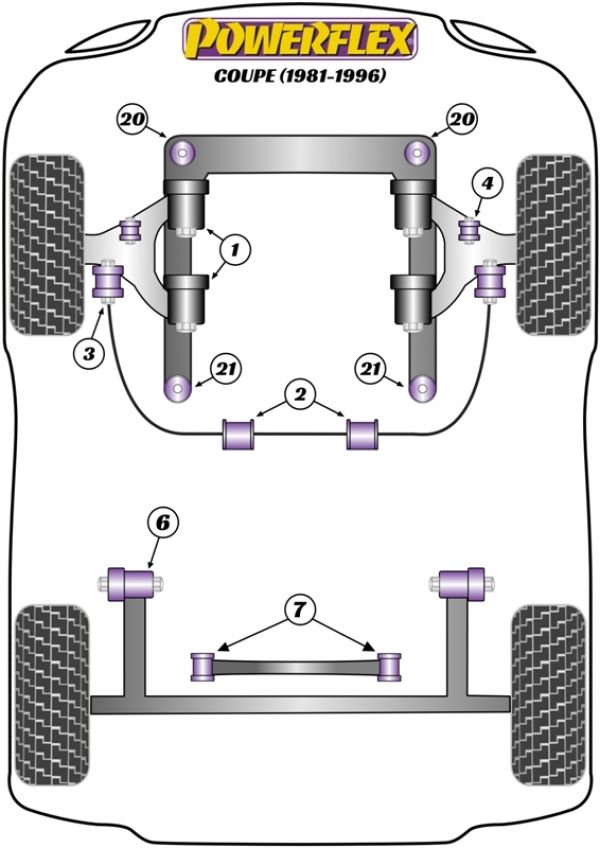 Notes:

One part number includes both driver and passenger suspension bushings as noted at the end of each part number (x2, x4, etc.)
Please confirm anti-roll bar diameter before ordering any anti-roll bar bushings
PFF3-101 - fits steel arms on cars up to Chassis Nr 8G-N-001-533
PFF3-102 - fits alloy arms on cars after Chassis Nr 8G-N-001-534
PFF3-104 & PFF3-105 - fits up to 1994/Chassis Number 8B-L-003 791
PFR3-1011-21 & -23.5 Front Anti Roll Bar Mounts are tear drop shaped.
PFF3-106-21.5 fits models where there is no link rod between the Anti Roll Bar and Control Arm.