Honda Civic (1992-1995) Suspension Bushings
Powerflex's special polyurethane is an advanced material with unique properties. Upgrade your Honda ~ Civic '92 - '95 with high performance bushings, bushings that won't cause vibration or noise and include a Lifetime Warranty!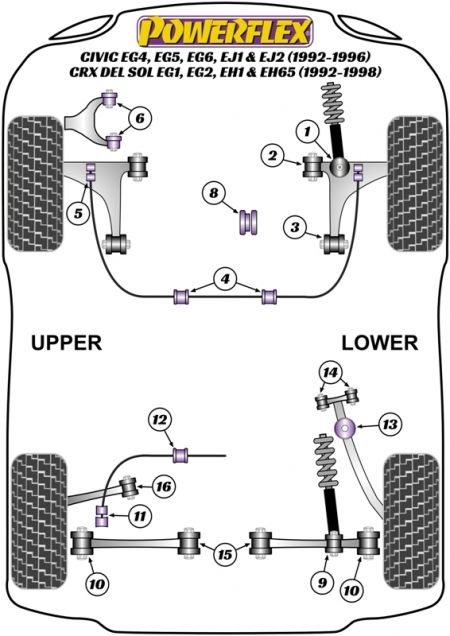 Notes:

CHECK SWAY BAR SIZES BEFORE ORDERING.

PLEASE CHECK SWAY BAR LINK, SOME MODELS USE 4 X PFF25-105 BUSHINGS, SOME LINK BARS HAVE A BALL JOINT AT ONE END AND ONLY USE x2 PFF25-105 BUSHINGS.

THE REAR LOWER ARM CAN BE CAST OR MADE OF PRESSED STEEL WITH EITHER 31mm OR 35mm BUSHINGS. FOR 31mm BUSHINGS, USE PFR25-110 & PFR25-115. FOR 35mm BUSHINGS, USE PFR42-610 & PFR42-611. 

PFR25-109 ONLY FITS CAST ARMS.