Nissan Juke Front Control Arm Rear Bushings
Description
Stock rubber control arm bushings give a disconnected and mushy feel to the front suspension, especially when worn, as the bushing deflects more than it should. You get sloppy steering, vibrations, and poor handling which makes the car feel unstable. These urethane bushings are stiffer than stock rubber and will not deflect as much. This helps keep the alignment in check with less variation. The car feels more planted and confidence-inspiring. And a lifetime warranty means you'll likely never have to pay for another bushing ever again!
This bushing set is available in black series for all uses; street, performance and race. 
Includes a pair of bushings for the rear of the left front and right front control arms.
This part replaces OEM Part Numbers: 54500-BB00A,54501JY00A
Fitting Instructions
1. Remove the original rubber bush from the front
control arm.
2. Clean any dirt and corrosion from the bore of the
arm, and file off any sharp edges.
3. Push the outer shell into the bore of the arm, smaller
diameter first. The shell fits into the arm from the side
of the arm that has a radius, as shown in figure 1.
4. Push the polyurethane part into the bore of the outer
shell. TIP: Apply some washing up liquid around the
polyurethane part to aid in fitting.
5. Apply some of the supplied grease to the bore of the
polyurethane part and push the stainless steel sleeve
into the bore so it sits flush inside the bushing.
6. Tension all hardware to manufacturers
recommended torque settings.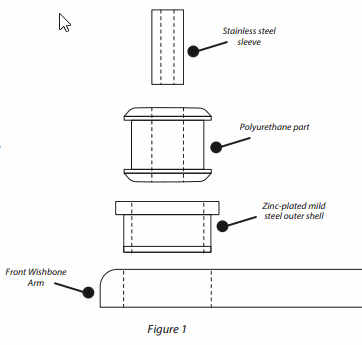 Fitment
OE / OEM Cross Reference Numbers:
54500-BB00A / 54501JY00A
This parts fits the following models.
---
Ask A Question (Please reference part number in subject line)
This is a preview of the recently viewed products by the user.
Once the user has seen at least one product this snippet will be visible.
Recently viewed Products