Powerflex Tuneable Hybrid Urethane Engine Mounts - E36, E46, Z3, E9X M3
Description

Why have only one engine mount? The Powerflex Tuneable "Hybrid" Urethane & Aluminum engine mounts for the E36, E46, and E90/E92 M3 are configurable to match your current car spec. It's "tuneable" to multiple performance settings -
- Street Performance with a dual-urethane core (65A and 80A bushings)
- Track Performance using stiffening pins inserted into the mount. The mount does not need to be removed to insert the pins, making this a tuneable mount from the paddock.
Also available is a full-race mount with a 95A black urethane core and stiffening pins. With the stiffest configuration the Powerlfex mount is a whopping 675% stiffer than a new M3 engine mount!
Other BMW urethane engine mounts are made with a single solid urethane block of one durometer. This is simple and cheap to manufacture but is not ideal for most scenarios - the mount is either too stiff or not stiff enough and poor manufactuing quality leads to continued problems. Powerflex properly engineered their mount to absorb vibrations while providing exceptional strength and sheer resistance. The design uses a "soft" Red 65A urethane to absorb Noise, Vibration, and Harshness (NVH) with a stiffer Purple 80A urethane for improved strength and performance. If you desire a stiffer mount for tracking or drifting the mount can be made stiffer without removing it from the car! Unsnap the yellow retaining collar and insert the four stiffening rods. This reduces deflection in the mount and makes it stronger.
Why would you want a stiffer engine mount? Mounts need to be stronger to withstand the higher stresses seen with hard driving or launching. Less deflection in the mount means a failure is less likely. The stock mounts are too soft for these types of driving and it's not uncommon for rubber mounts to break apart, mounting studs to shear off, and for the engine to move around and contact other parts (the radiator for example). Stiffer mounts help prevent these issues as well as giving better engine response, quicker power delivery, and more precise shifting (reducing the chances of a mis-shift). The beauty of the Powerflex tunebale mount is that it can be adapted for changing conditions, unlike other urethane or solid mounts which are either too stiff or not stiff enough.
These urethane/aluminum engine mounts are sold as a pair. They replace original BMW part numbers 22111095444, 22116779970, 22116771361, 11811092583, 11812283798, 11817837985, 11812228298, and 11811136542. Fits on all 6-cylinder E36 325i/328i/M3 and E46 323i/325i/328i/330i/M3 (not Xi AWD), and V8 E90/E92 M3.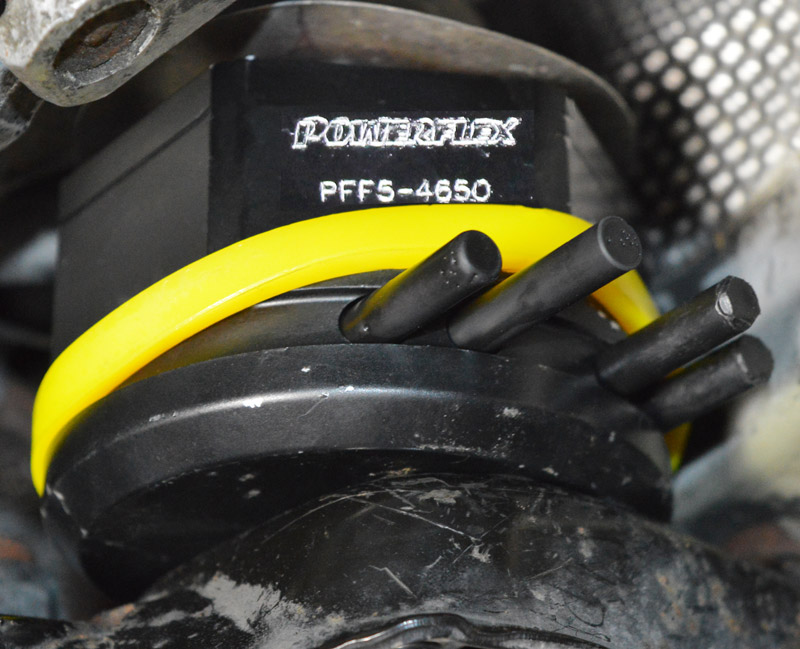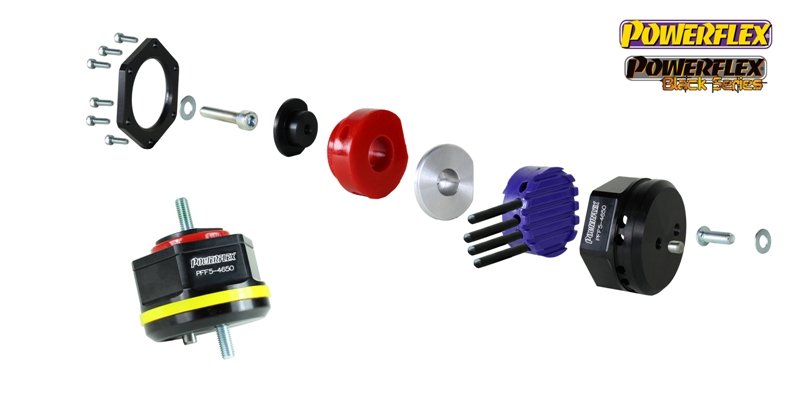 Fitment
OE / OEM Cross Reference Numbers:
22111095444, 22116779970, 22116771361 / 11811092583, 11812283798, 11817837985 / 11812228298, 11811136542
This parts fits the following models.
---
Ask A Question (Please reference part number in subject line)
This is a preview of the recently viewed products by the user.
Once the user has seen at least one product this snippet will be visible.
Recently viewed Products